Cybersecurity for Energy & Utility Providers
BitLyft provides enterprise-level security as a service (SOCaaS), augmenting traditional internal cybersecurity measures with a full security operations center (SOC) to ensure threats are detected and neutralized before they become newsworthy. Mean-time to detection and response is especially important for utilities and energy providers; the faster a threat can be isolated and removed from a network the less damage and loss it can cause. BitLyft effectively cuts threat reaction time from days to seconds with 24/7 monitoring, advanced detection, and a dedicated team who performs real-time threat remediation. IT professionals face unique challenges as they work to balance daily tasks, the taxing maintenance of regulatory compliance, and active threat detection. Let BitLyft help shoulder this burden, cybersecurity is what we do.
Identify your hidden threats!
We want to help you avoid cybersecurity being one of the last areas your organization considers. Download our whitepaper to learn about some of the most common hidden threats and determine how you can keep your organization from becoming the next victim of a cyber attack.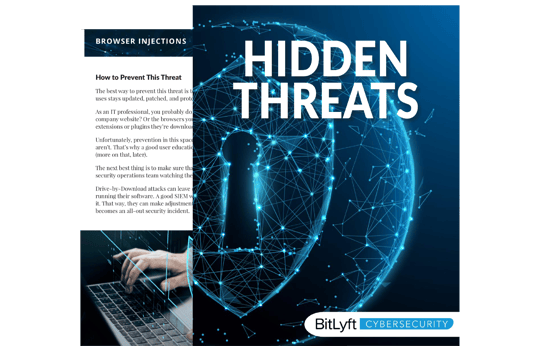 Protect Against Operational Failure, Instability & Breach
The BitLyft security team detects and understands deviations from expected and authorized behavior – a critical component of securing the critical infrastructure. New viruses, malware, Trojans, zero-day exploits and attacks are developed every day to bypass existing cybersecurity solutions. These types of breaches in security can be costly even when handled correctly, this is why it is so important to take a proactive approach to security with a dedicated team of professionals. BitLyft defends against these type of costly cyber threats by:
Eliminating information gaps
Understanding and detecting network traffic behavioral deviations
Independently monitoring process activity, network connections & user behavior activity
Performing File Integrity Monitoring
Tracking and controlling the movement of data to removable media
Benefits and Additional Support for Energy Providers/Utilities
Network security is heavily mandated and tightly regulated with multiple industry-specific requirements (NERC CIP, NRC, NEI, etc.) we can guide you through this maze and establish long-term solutions.
Logically identify and prioritize which SCADA assets are the likely targets of an attack
Establish visibility on resources that may be exploited to attack SCADA and/or classified networks
Profile expected behavior for SCADA devices and associated resources
Establish a continuous monitoring program to identify anomalous behavioral patterns, defend against specific cyber threats, and protect critical assets
Meet industry specific regulatory such as NERC CIP, NRC RG 5.71, NEI 08-09 Rev 6, etc.
Comprehensive compliance packages for, NERC CIP, NRC RG (Regulatory Guide) 5.71, NEI 08-09 Rev 6
Specific support for SCADA devices
Secure, one-way communication for classified environments
Advanced correlation rules for protecting critical assets
Proactive cybersecurity and compliance enforcement
Easier NERC CIP Compliance
Demonstrate compliance: ensure Bulk Electric Systems (BES) operate within the requirements of applicable policies, legislation and regulations
Enhanced risk management: provide an essential contribution to the mitigation of risks to the confidentiality, integrity and availability of information assets provided by BES
Reporting and continuous improvement: BitLyft contributes to mandatory reporting and process requirements of NERC CIP
Situational awareness: deliver a real-time feed of information regarding the current status and threats, ensuring incidents are detected, investigated and remediated
Accountability: ensure that BES are used within the defined parameters and are not used for wasteful or unlawful purposes
Network defense: enhance your other security countermeasures to provide a complete "defense-in-depth" approach and facilitate automated responses to threats to bulk electric systems